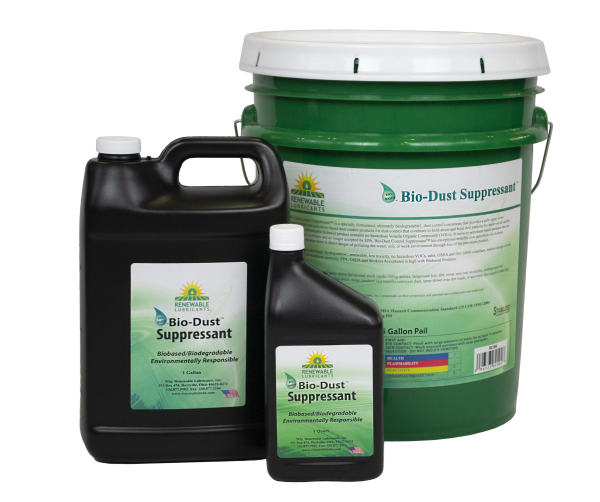 Bio-Dust Control Suppressant (Water Soluble)
This product is also offered in 55 gallon drums, 275 gallon totes, 330 gallon totes, and bulk tankers. Please contact us for a quote.

Bio-Dust Control Suppressant™ is a specially formulated, ultimately biodegradable, natural ester-based dust control Water Soluble concentrate that provides a safer spray-down improvement over petroleum-based dust control products for dust control that continues to hold-down and bond dust particles for improved air quality. This safe, nonflammable biobased product contains no hazardous Volatile Organic Compounds (VOCs). It replaces petroleum-based products that are environmental problems and no longer accepted by EPA. Bio-Dust Control Suppressant™ has exceptional benefits over petroleum oils in these applications because there is direct danger of polluting the water, soil, or work environment through loss of the petroleum product.
The advantages are many: biodegradable1, renewable, low toxicity, no hazardous VOCs, Safer, High Flash Point (287.8 ºC), OSHA and ISO 14000 compliant, reduces foreign oil and helps secure the American economy. EPA, OSHA and Workers Acceptance is high with Biobased Products.
Applications:
General purpose dust control spray-down for around stock yards, riding arenas, fairground lots, dirt, stone, and coal stockpiles, underground and aboveground mines and construction areas, stone crushers and transfer conveyer dust, spray-down over dirt roads, or anywhere that require a safer dust suppressant.
Data Sheets
Technical Data Sheets (TDS)
Safety Data Sheets (SDS)
View More Products