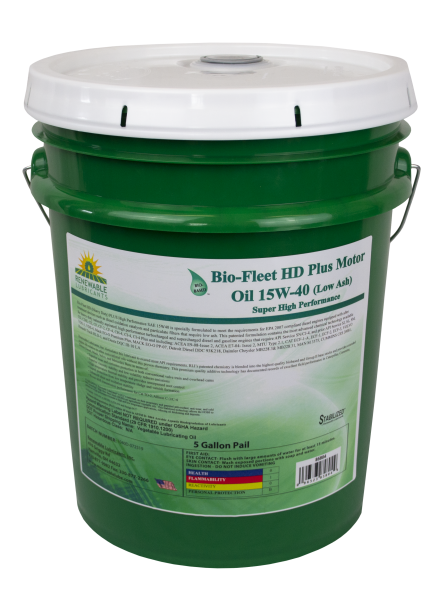 Bio-Fleet HD PLUS SAE (Low Ash) Motor Oil
This product is also offered in 55 gallon drums, 275 gallon totes, 330 gallon totes, and bulk tankers. Please contact us for a quote.

Bio-Fleet HD Plus (Low Ash) and Bio-Fleet HD (Heavy Duty) HP Motor Oils are high performance biobased products that are formulated to meet or exceed the requirements of all major manufactures of naturally aspirated or turbocharged/supercharged diesel and gasoline engines such as: API Service SN/CJ-4, and prior API Service SJ, SL, SM, SN/CD, CDII, CE, CF, CF-2, CF-4, CH-4, CI-4, CI-4 Plus, and including: ACEA E9-08, E2-96, E5-02, 7-02, 7-04, MTU 2.1, CAT ECF-1-a, ECF-1, ECF-2, ECF-3, VOLVO VDS-3, VDS-4, Cummins CES 20081, Mack EO-O Premium Plus, MACK EO-O PP-07, Detroit Diesel DDC 93K218, Daimler Chrysler MB228.3, MB228.31, Deutz DQC III-05, MAN M 3575, Renault Truck RLD-3 and power-shift transmission CAT TO-2, Allison C-3/C-4.
Data Sheets
Safety Data Sheets (SDS)
View More Products