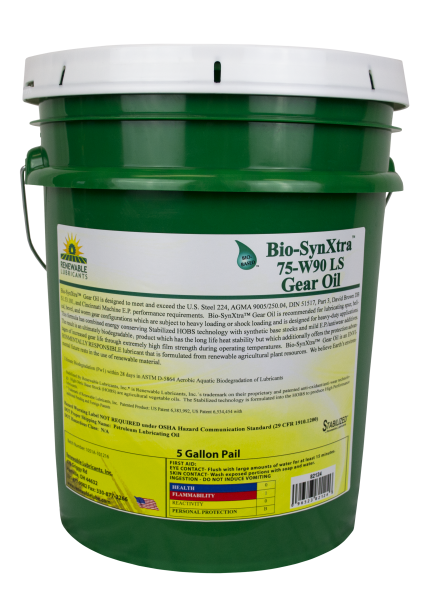 Bio-SynXtra™ GL-5 LS Gear Oil
This product is also offered in 55 gallon drums, 275 gallon totes, 330 gallon totes, and bulk tankers. Please contact us for a quote.

Bio-SynXtra™ 75W90 GL-5 LS is designed to meet/exceed the SAE J306 and SAE J2360 requirements for manual transmissions, differentials (including limited slip (LS) units), and transfer cases.

Increasing the additive technology above GL-5 provides additional performance and Extreme Pressure (EP) protection for spiral bevel and hypoid gears. This biobased formula has combined Stabilized HOBS technology with synthetic base stocks to provide a super high viscosity index (VI) with fuel savings performance. The result is an inherently biodegradable product which has the long life heat stability but which additionally offers the protection advantages of increased gear life through extremely high film strength and excellent low temperature performance. This product may be used for top-off of differentials and is compatible with hydrocarbon and synthetic PAO based gear oils.
View More Products