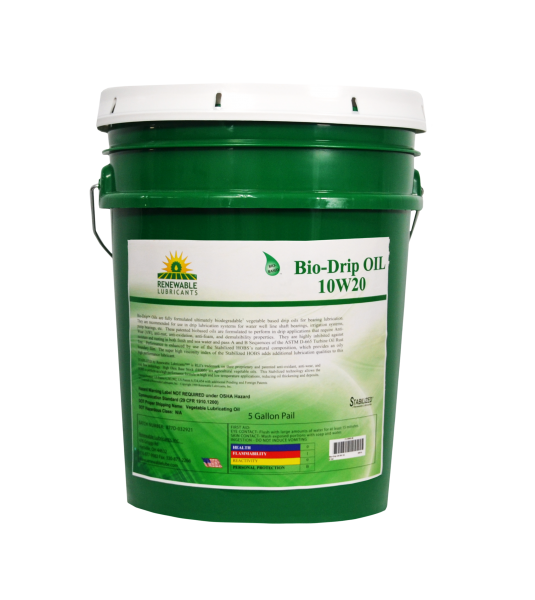 Bio-Drip Oil
This product is also offered in 55 gallon drums, 275 gallon totes, 330 gallon totes, and bulk tankers. Please contact us for a quote.

Bio-Drip™ Oils are fully formulated ultimately biodegradable vegetable based drip oils for bearing lubrication. They are recommended for use in drip lubrication systems for water well line shaft bearings, irrigation systems, pump bearings, etc. These patented biobased oils are formulated to perform in drip applications that require Anti-Wear (AW), anti-rust, anti-oxidation, anti-foam, and demulsibility properties. They are highly inhibited against moisture and rusting in both fresh and sea water and pass A and B Sequences of the ASTM D-665 Turbine Oil Rust Test. Performance is enhanced by use of the Stabilized HOBS's natural composition, which provides an oily boundary film. The super high viscosity index of the Stabilized HOBS adds additional lubrication qualities to this high performance lubricant.
These products should always be used whenever there is a danger of soil or water pollution. The best applications for these products are in the agricultural, construction, forestry, mining and marine industries.
Bio-Drip™ Oils meet the Environmental Protection Agency (EPA) 2013 Vessel General Permit (VGP) guidelines for Environmentally Acceptable Lubricants (EALs), and should be used where LOW TOXICITY, BIODEGRADABILITY and NON-BIOACCUMULATION properties are required. They exceed the acute toxicity (LC-50 / EC-50 >1000 ppm) criteria adopted by the US Fish and Wildlife Service and the US EPA. Bio-Drip™ Oils are ENVIRONMENTALLY RESPONSIBLE lubricants that are formulated from renewable agricultural biobased resources. We believe Earth's environmental future rests in the use of renewable materials.
Data Sheets
Technical Data Sheets (TDS)
Safety Data Sheets (SDS)
View More Products