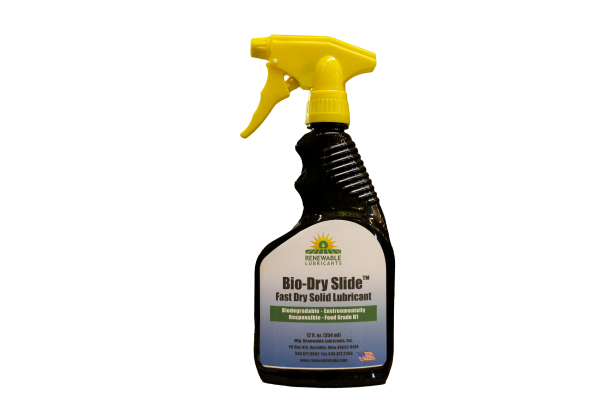 Bio-Dry Slide
This product is also offered in 55 gallon drums, 275 gallon totes, 330 gallon totes, and bulk tankers. Please contact us for a quote.

Bio-Dry Slide Lubricant is a biobased Extreme Pressure (EP) formulation specially designed for lubricating sliding surfaces that require a fast dry solid lubricant or release agent. This product is fortified with a food grade1 synthetic white graphite EP that lubricates and reduces friction equal or better than PTFE. It is formulated in a unique biodegradable, biobased carrier and provides excellent Coefficient of Friction (0.08) on sliding surfaces with added anti-rust, anti-oxidation, and anti-wear protection. In addition, this white graphite has shown to provide improved lubrication over 1000ºC after black graphite, PTFE, and molybdenum disulfide loses their lubrication between 400ºC and 500ºC. It contains no Trichloroethylene, Perchloroethylene, Tetrafluoroethane, heavy metals, lead, antimony, zinc, or chlorine.

Bio-Dry Slide Lubricant is an ENVIRONMENTALLY RESPONSIBLE product that is formulated from renewable agricultural plant resources. We believe Earth's environmental future rests in the use of renewable materials.
Data Sheets
Technical Data Sheets (TDS)
Safety Data Sheets (SDS)
Additional Data Sheets
View More Products