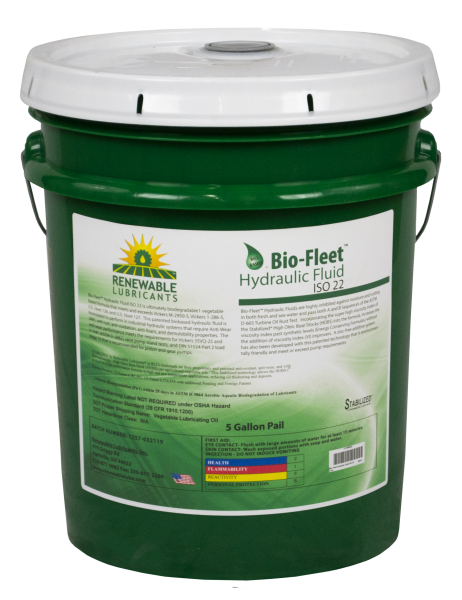 Bio-Fleet™ Hydraulic Fluid
This product is also offered in 55 gallon drums, 275 gallon totes, 330 gallon totes, and bulk tankers. Please contact us for a quote.

Bio-Fleet™ Hydraulic Fluids are ultimately biodegradable1 vegetable based formulas that meets and exceeds Vickers M-2950-S, Vickers 1-286-5, U.S. Steel 126, and U.S. Steel 127. These patented biobased hydraulic fluids are formulated to perform in fleet, marine, and industrial hydraulic systems that require Anti-Wear (AW), anti-rust, antioxidation, anti-foam, and demulsibility properties. An environmentally friendly, zinc-free additive system has also been developed that meets or exceeds high pressure pump requirements. The anti-wear performance meets the requirements for Vickers 35VQ-25 and V-104C (ASTM D-2882) vane pump stand tests, and exceeds DIN 51524 Part 2 and 3 (HLP/HVLP) load stage 10 that is recommended for vane, piston and gear pumps.
View More Products