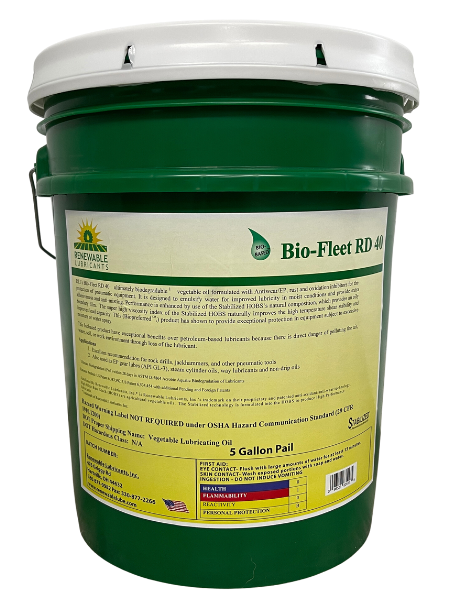 Bio-Fleet Rock Drill 40
This product is also offered in 55 gallon drums, 275 gallon totes, 330 gallon totes, and bulk tankers. Please contact us for a quote.

Introducing Bio-Fleet Rock Drill™ Oil – Your Ultimate Choice for Eco-Friendly Performance. Experience the power of innovation with our groundbreaking Bio-Fleet Rock Drill™ Oils, where cutting-edge technology meets environmental responsibility. These oils are not just lubricants; they're a commitment to a cleaner, greener planet.
Environmentally Pioneering: Crafted from meticulously Stabilized* vegetable oil-based formulations, our oils stand as exemplars of biodegradability. We guarantee no adverse impact on our cherished environment.
Unyielding Equipment Protection: Fortified with rust and oxidation inhibitors, Antiwear, and Extreme Pressure protection, our oils emerge as stalwart guardians of pneumatic equipment. They mitigate wear and tear, ensuring equipment operates at peak efficiency.
Moisture Mitigation: Bid farewell to moisture-induced complications! Our oils possess the ability to emulsify water, enhancing lubricity under damp conditions while averting moisture-induced equipment issues.
EPA-Certified: Bio-Fleet Rock Drill™ Oils proudly adhere to the stringent Environmental Protection Agency (EPA) 2013 Vessel General Permit (VGP) guidelines for Environmentally Acceptable Lubricants (EALs). When the mandate calls for LOW TOXICITY, BIODEGRADABILITY, and NON-BIOACCUMULATION, our oils rise to the occasion.
Wildlife-Safe: We have secured the approval of both the US Fish and Wildlife Service and the US EPA. Our oils surpass acute toxicity criteria, ensuring that our products pose no harm to the fauna that shares our planet.
A Sustainable Future: Bio-Fleet Rock Drill™ Oils underscore our unwavering commitment to environmental stewardship. Formulated from renewable agricultural plant resources, they represent a decisive stride towards a sustainable future.
For rock drills, jackhammers, and pneumatic tools, make the responsible choice. Transition to Bio-Fleet Rock Drill™ Oils and align with our mission to safeguard the environment while enjoying unparalleled performance.
Data Sheets
Technical Data Sheets (TDS)
Safety Data Sheets (SDS)
View More Products