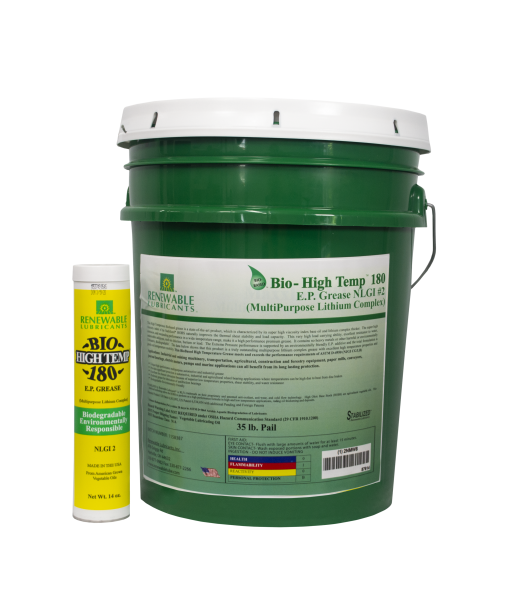 Bio-High Temp 180 Grease
This product is also offered in 120 lb kegs, 400 lb drums. Please contact us for a quote.
This High Temperature Biobased grease is a state-of-the-art product, which is characterized by its super high viscosity index base oil and lithium complex thickener. The super high viscosity index of the Stabilized* HOBS naturally improves the thermal shear stability and load capacity. This very high load carrying ability, excellent resistance to water, corrosion, and outstanding performance in a wide temperature range, make it high performance premium grease. It contains no heavy metals or other harmful or environmentally undesirable additives, such as chlorine, barium or lead. The Extreme Pressure performance is supported by an environmentally friendly E.P. additive and the total formulation is Ultimately Biodegradable. The datasheet below shows that this product is truly outstanding multipurpose lithium complex grease with excellent high temperature properties and good cold temperature mobility. This BioBased High Temperature Grease meets and exceeds the performance requirements of ASTM D-4950 (NLGI CG/LB).

Applications: Industrial and mining machinery, transportation, agricultural, construction and forestry equipment, paper mills, conveyors, journal bearings, electric motors, pumps and marine applications can all benefit from its long lasting protection.
Data Sheets
Technical Data Sheets (TDS)
Safety Data Sheets (SDS)
Additional Data Sheets
View More Products