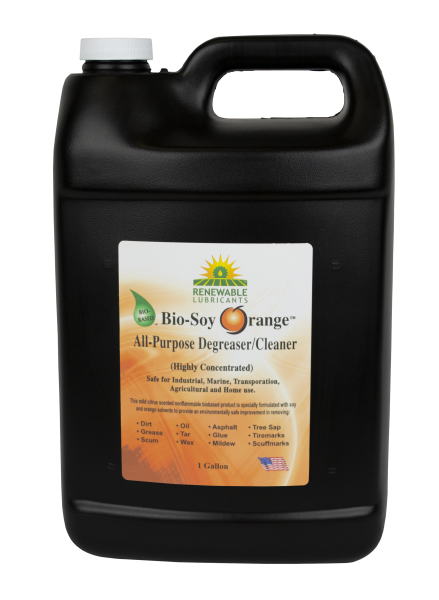 Bio-Soy Orange All Purpose Cleaner
This product is also offered in 120 lb kegs, 400 lb drums. Please contact us for a quote.
An excellent biobased, biodegradable degreaser/cleaner that is a safe improvement over petroleum solvents. Bio-Soy Orange™ is a highly concentrated industrial degreaser that removes and cleans surfaces of stubborn stains, greases, and oily grimy dirt fast. Nothing cleans better than Bio-Soy Orange™. A super all-purpose product for degreasing and cleaning warehouses and shop walls, oily floors, parts, tools, engines, and equipment. Unbelievable cleaning ability on RV camper and motor-home black streaks. Excellent for cleaning road grime and tar from tires and vehicles. This non-foaming product is great for cleaning and lifting cooked on grease and fats off of stoves and grills. Also excellent for cleaning boats, decks, and around marine areas.
Data Sheets
Technical Data Sheets (TDS)
Safety Data Sheets (SDS)
View More Products