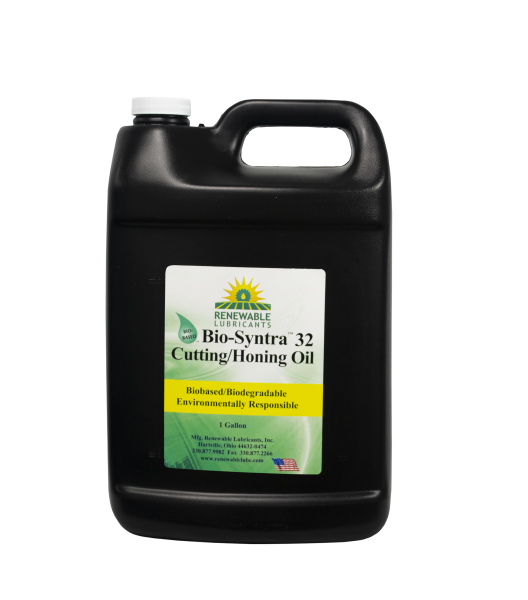 Bio-Syntra Metal Working Machining Oil
This product is also offered in 55 gallon drums, 275 gallon totes, 330 gallon totes, and bulk tankers. Please contact us for a quote.

Bio-Syntra™ machining oils are ultimately biodegradable, biobased metal working oils formulated from natural and synthetic esters for heavy and extra heavy duty machining operations. Their color can be classified as transparent, which permits viewing the cutting operations while in process and they are formulated to reduce smoke and mist. Performance is enhanced by use of the Stabilized HOBS's, natural fatty acid composition, which provides tool wetting and oiliness; combined with excellent extreme pressure (EP) and antiwear technology. The super high viscosity index of the Stabilized HOBS and synthetic base stocks adds additional load carrying properties and corrosion protection. They are non-staining to yellow metals and may be used for machining both ferrous and non-ferrous metal alloys. These operations include: stamping, drawing, milling, drilling, turning, grinding, honing, broaching, cutting, thread cutting, and tapping.
Bio-Syntra™ oils meet the Environmental Protection Agency (EPA) Vessel General Permit (VGP) guidelines for Environmentally Acceptable Lubricants (EALs), and should be used in applications where LOW TOXICITY, BIODEGRADABILITY and NON-BIOACCUMULATION properties are required. They exceed the acute toxicity (LC-50 / EC-50 >1000 ppm) criteria adopted by the US Fish and Wildlife Service and the US EPA. Bio-Syntra™ oils are ENVIRONMENTALLY ACCEPTED LUBRICANTS (EALs) that are formulated from renewable agricultural biobased resources. We believe Earth's environmental future rests in the use of renewable materials.
Data Sheets
Technical Data Sheets (TDS)
View More Products