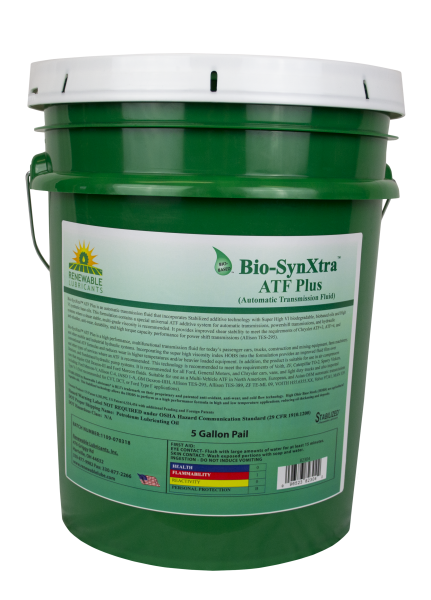 Bio-SynXtra™ Automatic Transmission Fluid (ATF) PLUS
This product is also offered in 55 gallon drums, 275 gallon totes, 330 gallon totes, and bulk tankers. Please contact us for a quote.

Fluid that incorporates patented Stabilized additive technology with Super High VI biodegradable, biobased oils and High VI synthetic base oils.

This formulation contains a special universal ATF additive system for automatic transmissions, powershift transmissions, and hydraulic systems where a shear stable, multi-grade viscosity is recommended. Provides improved shear stability to meet the requirements of Chrysler ATF+3, ATF+4, and anti-shudder, anti wear, durability, and high torque capacity performance for power shift transmissions (Allison TES-295).

Bio-SynXtra™ ATF Plus is a high performance, multifunctional transmission fluid for today's passenger cars, trucks, construction and mining equipment, farm machinery, and other mobile and industrial hydraulic systems. Incorporating the super high viscosity index HOBS into the formulation provides an improved fluid film over conventional ATF formulas and reduces wear in higher temperatures and/or heavier loaded equipment. In addition, the product is suitable for use in air compressors and other types of services where an ATF is recommended.
Data Sheets
Technical Data Sheets (TDS)
Safety Data Sheets (SDS)
View More Products