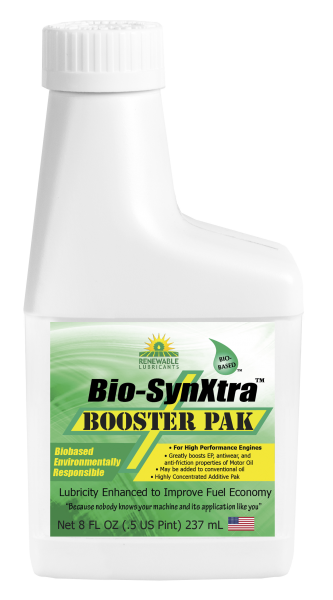 Bio-SynXtra™ Booster Pak
This product is also offered in 55 gallon drums, 275 gallon totes, 330 gallon totes, and bulk tankers. Please contact us for a quote.

Bio-SynXtra Booster Pak is a patented biobased concentrate that can be added to any engine oil to improve lubrication performance and increase the life of high performance engines. Bio-SynXtra Booster Pak contains the most advanced additive technology available for high performance, heavy-duty turbo-charged and supercharged gas and diesel engines. In addition, this technology, at the lower treat rates, has shown superior performance in light duty trucks and passenger cars to reduce friction and provide additional fuel economy benefits over formulas without this proven chemistry.

Now more than ever, there is an increased need for a high performance lubricant that is designed to out perform the conventional petroleum API SM/SN formulas. Bio-SynXtra Booster Pak is formulated with Stabilized HOBS* that provides a Super High Viscosity Index (VI) to improve performance in high stress engines without the use of polymers to improve the VI. This concentrated formulation offers a variety of advantages over mineral oil-based additives.
Data Sheets
Technical Data Sheets (TDS)
View More Products