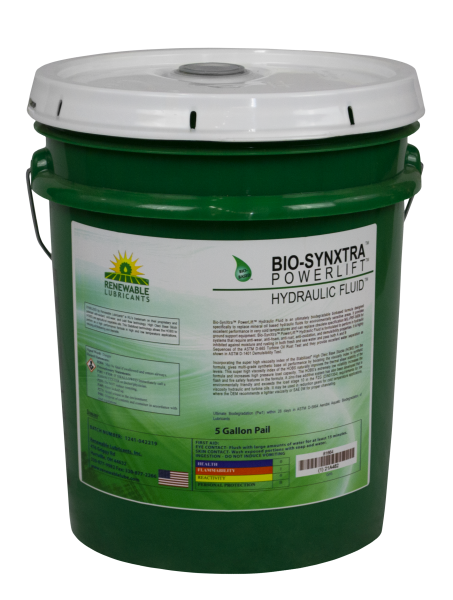 Bio-SynXtra™ Powerlift Fluid
This product is also offered in 55 gallon drums, 275 gallon totes, 330 gallon totes, and bulk tankers. Please contact us for a quote.

Bio-SynXtra™ PowerLift Hydraulic Fluid is an ultimately biodegradable biobased formula designed specifically to replace mineral oil based hydraulic fluids for environmentally sensitive areas. It provides excellent performance in very cold temperatures and can replace obsolete specification MIL-PRF-5606 for ground support equipment.

Bio-SynXtra™ PowerLift Hydraulic Fluid is formulated to perform in hydraulic systems that require anti-wear, anti-foam, anti-rust, anti-oxidation, and demulsibility properties. It is highly inhibited against moisture and rusting in both fresh and sea water and pass both A and B Sequences of the ASTM D-665 Turbine Oil Rust Test and they provide excellent water separation as shown in ASTM D-1401 Demulsibility Test.
Data Sheets
Technical Data Sheets (TDS)
Safety Data Sheets (SDS)
View More Products