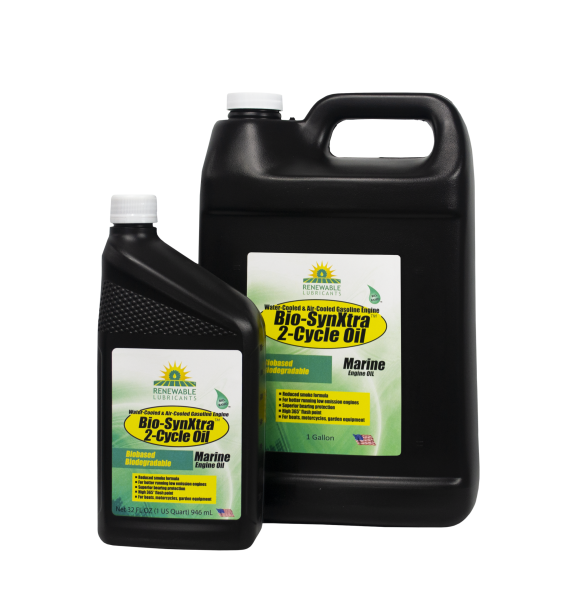 Bio-SynXtra TC-W 2-Cycle Engine Oil
This product is also offered in 55 gallon drums, 275 gallon totes, 330 gallon totes, and bulk tankers. Please contact us for a quote.

Bio-SynXtra™ TC+ 2-Cycle Engine Oil is a patented, readily biodegradable, biobased synthetic formula with improved additive technology that meets and exceeds API TC+ for high performance air-cooled 2 Cycle Engines. This improved additive technology provides additional antiwear/anti-scuffing protection and is recommended for used in lawn and garden equipment, chain saws, snow blowers, motor scooters, mopeds, air-cooled snowmobiles, and air-cooled marine engines. In addition, it meets and exceeds the National Marine Manufacturers Association (NMMA) requirements for obsolete Water-Cooled TC-W (BIA), TC-WII for older outboard 2-Cycle Engine.
Bio-SynXtra™ TC+ contains enhanced lubricity boosters and additional cleanliness chemistry that improves lubrication performance for high output Motorcycle API TC and Husqvarna Chain Saw 242/266 requirements. It is specifically formulated to reduce visible smoke and burn clean, minimizing deposits and carbon buildup, and preventing ring sticking and spark plug fouling. In addition, this technology minimizing deposits and carbon buildup in equipment operating at high and low RPMs.
Bio-SynXtra™ TC+ is recommended in both carbureted and Direct Fuel Injected (DFI) systems. This ashless, Low-Smoke Formula contains Stabilized* Technology to improve fuel stability.
Data Sheets
Technical Data Sheets (TDS)
Safety Data Sheets (SDS)
View More Products