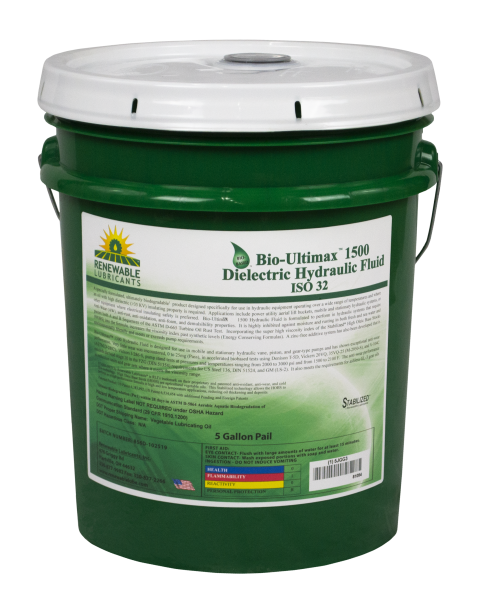 Bio-Ultimax 1500 Dielectric Hydraulic Fluid
This product is also offered in 55 gallon drums, 275 gallon totes, 330 gallon totes, and bulk tankers. Please contact us for a quote.

A specially formulated, ultimately biodegradable product designed specifically for use in hydraulic equipment operating over a wide range of temperatures and where an oil with high dielectric (>35 KV) insulating property is required. Applications include power utility aerial lift buckets, mobile and stationary hydraulic systems, or other equipment where electrical insulating safety is preferred. Bio-Ultimax 1500 Hydraulic Fluids are formulated to perform in hydraulic systems that require Anti-Wear (AW), anti-rust, anti-oxidation, anti-foam, and demulsibility properties. They are highly inhibited against moisture and rusting in both fresh and sea water and passes both A and B Sequences of the ASTM D-665 Turbine Oil Rust Test. Incorporating the super high viscosity index of the Stabilized* High Oleic Base Stocks (HOBS) into the formula, increases the viscosity index past synthetic levels (Energy Conserving Formula). A zinc-free additive system has also been developed that is environmentally friendly and meets or exceeds pump requirements.
View More Products