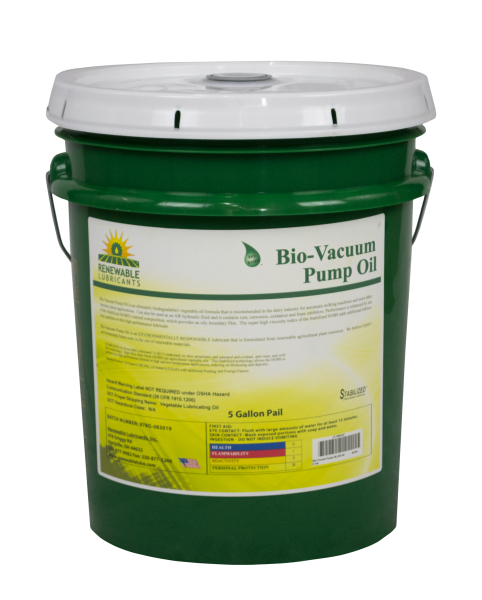 Bio-Vacuum Pump Oil
This product is also offered in 55 gallon drums, 275 gallon totes, 330 gallon totes, and bulk tankers. Please contact us for a quote.

Bio-Vacuum Pump™ Oil is an ultimately biodegradable1 biosynthetic formula that is recommended in the dairy industry for automatic milking machines and most other vacuum pump applications. It provides protection in vacuum pumps that require Anti-Wear (AW), anti-rust, anti-oxidation, anti-foam, and demulsibility properties. Incorporating the super high viscosity index (VI) of the Stabilized* High Oleic Base Stocks (HOBS) into the formula, increases the viscosity index past synthetic levels (Energy Conserving Formulas). The HOBS's extremely low volatility increases the flash and fire safety features in the formula and reduces oil volatility.
Bio-Vacuum Pump™ Oil meet the Environmental Protection Agency (EPA) 2013 Vessel General Permit (VGP) guidelines for Environmentally Acceptable Lubricants (EALs), and should be used where LOW TOXICITY, BIODEGRADABILITY and NON-BIOACCUMULATION properties are required. It exceeds the acute toxicity (LC-50 / EC-50 >1000 ppm) criteria adopted by the US Fish and Wildlife Service and the US EPA. Bio-Vacuum Pump™ Oil is an ENVIRONMENTALLY RESPONSIBLE lubricant that is formulated from renewable agricultural biobased resources. We believe Earth's environmental future rests in the use of renewable materials.
Data Sheets
Technical Data Sheets (TDS)
Safety Data Sheets (SDS)
View More Products