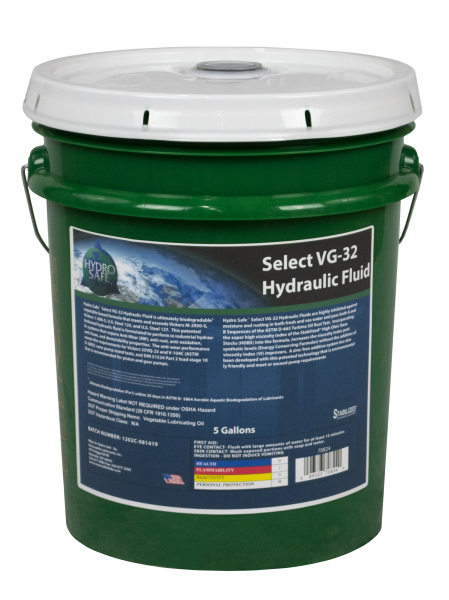 Hydro Safe® Select Hydraulic Fluid
This product is also offered in 55 gallon drums, 275 gallon totes, 330 gallon totes, and bulk tankers. Please contact us for a quote.

Hydro Safe® Select Hydraulic Fluids are ultimately biodegradable vegetable based formulas that meets and exceeds Vickers M-2950-S, Vickers 1-286-5, U.S. Steel 126, and U.S. Steel 127. These patented biobased hydraulic fluids are formulated to perform in fleet, marine, and industrial hydraulic systems that require Anti-Wear (AW), anti-rust, anti-oxidation, anti-foam, and demulsibility properties.

An environmentally friendly, zinc-free additive system has also been developed that meets or exceeds high pressure pump requirements. The anti-wear performance meets the requirements for Vickers 35VQ-25 and V-104C (ASTM D-2882) vane pump stand tests, and exceeds DIN 51524 Part 2 load stage 10 that is recommended for piston and gear pumps. Hydro Safe® Select Hydraulic Fluids are the perfect economical choice for hydraulic equipment operating outside, where unpredictable higher moisture and dusty environments are more prominent and the equipment require more frequent oil change intervals. They are highly inhibited against moisture and rusting in both fresh and sea water, passed both A and B Sequences of the ASTM D-665 Turbine Oil Rust Test, and they provide excellent water separation as shown in ASTM D-1401 Demulsibility Test.
View More Products