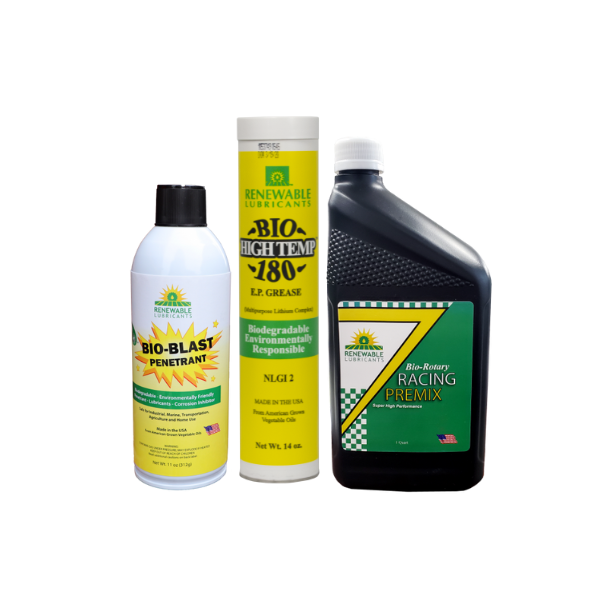 Bio-Rotary Engine Performance Bundle
Introducing the Ultimate Rotary Engine Performance Bundle
Rev up your rotary engines and experience a whole new level of performance with our unbeatable trio: Bio-Rotary Racing Premix, High Temperature Biobased Grease, and Bio-Blast™ penetrant. We've carefully curated this bundle to cater to all your rotary engine needs, ensuring you have the power, protection, and environmental consciousness that you deserve.
Bio-Rotary Racing Premix - The Rotary Enthusiast's Dream
We understand that rotary engines require special care and attention, which is why we designed Bio-Rotary Racing Premix specifically for rotary engines. Tackling the top three concerns in the rotary community, this cutting-edge technology provides:
1. Proper Lubrication: Say goodbye to engine wear and tear! Our premix ensures optimum lubrication to keep your rotary engine running smoothly and efficiently, enhancing its overall performance and extending its lifespan.
2. Combat Carbon Buildup: Carbon buildup? Not anymore! Bio-Rotary Racing Premix effectively prevents carbon deposits, keeping your engine clean and running at its peak, without the need for constant maintenance.
3. Fuel Compatibility: Worried about finding the right fuel? Fret not! Our premix is compatible with any type of fuel, giving you the flexibility to choose the best option available.
But wait, there's more! Bio-Rotary Racing Premix goes above and beyond to protect your fuel system from corrosion and even includes a fuel conditioner to optimize your engine's efficiency.
Bio-High Temp 180 Grease - Power Meets Sustainability
What sets us apart from the rest? Our High Temperature Biobased Grease is not just a top-notch performer but also an environmentally responsible choice. Here's why it's a game-changer:
1. Super High Viscosity Index: Experience unmatched thermal shear stability and load capacity with our state-of-the-art formula. Whether you're dealing with extreme temperatures or heavy loads, this premium grease has got you covered.
2. Environmentally Friendly: No heavy metals, no harmful additives. Our grease is safe for you and the planet, making it the ultimate choice for responsible enthusiasts like you.
3. Multipurpose Marvel: From industrial machinery to marine applications, this grease offers long-lasting protection across various equipment and environments.
Bio-Blast™ - Blast Away the Competition
Rust and dirt have met their match! Introducing Bio-Blast™, the biodegradable and fast-acting penetrant that will free those stubborn, frozen parts with ease.
1. Fast-Penetrating Catalyst: Watch rust and dirt vanish before your eyes! Our patented composition guarantees quick and efficient results, saving you valuable time and effort.
2. Environmentally Conscious: Say goodbye to harmful petroleum-based products! Bio-Blast™ is renewable, non-toxic, and safe for both you and the environment.
3. Versatile Wonder: From home repairs to industrial use, Bio-Blast™ is your go-to solution for all your penetrating needs.
Get the Bundle, Get the Thrill
Take your rotary engine experience to new heights with our ultimate performance bundle. We've combined the best of technology, sustainability, and efficiency to deliver a package that you won't find anywhere else. So, what are you waiting for? Join the revolution of responsible enthusiasts today and grab your Ultimate Rotary Engine Performance Bundle. Power up your engines, protect the environment, and enjoy the ride of a lifetime!
View More Products